---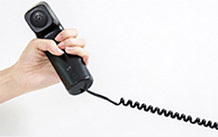 联系我们
---
职位描述:
Job Responsibilities:
1. Responsible for marketing and sales;
2. Customer service, complaint handling;
3. The formulation of product packaging specifications and other work.
Recruitment conditions:
1. The English level is good, the English major should reach the level of the professional level 4 or above, and the other majors must reach the level of the college English level 6 or above;
2. Have a strong sense of professionalism and responsibility, have good interpersonal skills, social activities and public relations negotiation skills; have a good teamwork spirit, good coordination and communication skills;
3. English, marketing, and international trade majors have preferred employment experience in the auto parts industry; mechanical majors, those with higher English proficiency are preferred.

Scan into the mobile website

Scan into the WeChat public account

ADD
No 399 Shanghai road, Donggang district, Rizhao, Shandong
---